Movie Making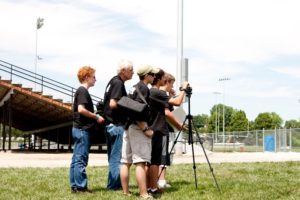 LTD offers two movie making classes.
Beginning Digital Movie Making Class
The class covers on a beginner's level the camera and how to use it - exposure, focus, zoom, special features, settings, downloading video.  How to compose a shot and various camera movements, editing, putting your ideas on paper and then getting them on the screen, the use of story boards, copyright laws and more.
The class is made of seven 90 minute sessions.  There are two, five to six hour movie shoot days (Saturdays), in which the students take a script for a short five to ten minute movie and hold a movie shoot.  To pass the class each student is required to work on their own short movie project, producing a five minute movie using what they have learned.  The class ends with an evening movie festival in which the students share their short movies with family and friends.
Intermediate Movie Making Class
Class meets once a week in the evening for 90 minutes and is open to students who have completed the Beginning Digital Movie Making Class.  Students review movie making techniques.  Explore script writing and story development in more depth.  They also will learn more about digital editing and special effects.  After a few weeks of instruction the students will work on a joint project and produce a 30 to 60 minute movie.  They will write the script, select the cast, plan movie shoots and go on location to capture on video their movie.  Students will each take turns at directing, shooting video, editing, assisting with various jobs on set.  They will plan all aspects of their movie.  Depending on how long it takes to complete the script and the length and  complexity of the movie the class will take from one to two years to complete.  Once the shooting of the movie begins, shoots will be scheduled mainly all day on Saturdays and some weekdays in the afternoon and evening.